MasterTherm AquaMaster
The MasterTherm AquaMaster model ranges from 7 to 64 kW, covering a wide range of applications. Can be cascade up to 16 units with the standard control system. The AquaMaster heat pump operates with high efficiency and extreme reliability. With an output water temperature up to 60°c, it can be installed to systems where higher temperatures are required. The unit can be fitted with a desuperheater to achieve high-efficiency domestic hot water temperatures up to 70°c.
Other advantages include an exceptionally low noise compressor mounted on an anti-vibration frame. The unit can be safely placed anywhere in the property, free from noise disturbance. The AquaMaster unit is a proven product, offering quality components, modern technology and controls, a wide array of basic equipment with plenty of additional options and, above all, an excellent price-to-performance ratio.
Up to 16 units can be connected in cascade to provide up to 2mW heating capacity on request.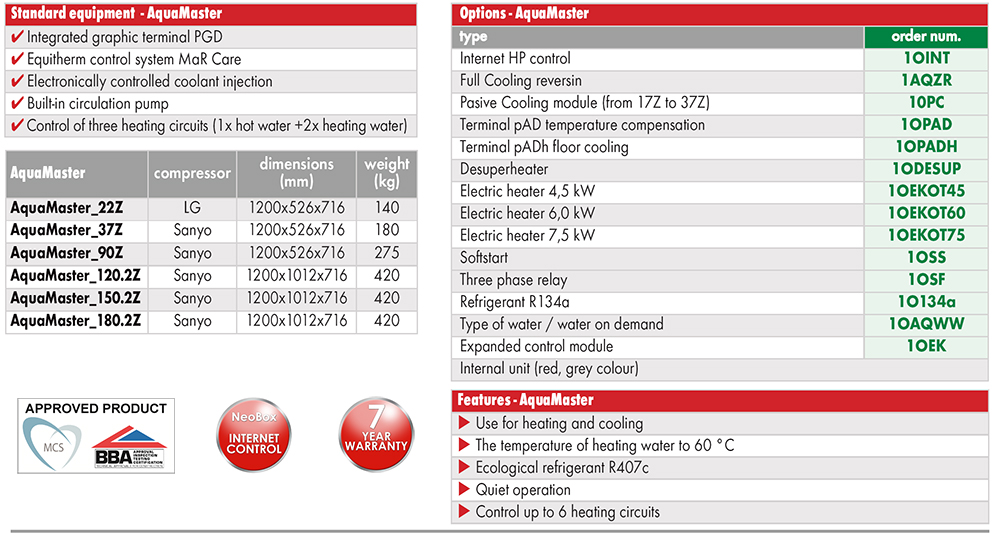 Found items: 7
Found items: 7