Heat Pumps
Here at Thermal Earth, we are experts in the three main types of heat pumps - Ground Source Heat Pumps (GSHP), Water Source Heat Pumps (WSHP) and Air Source Heat Pumps (ASHP).
Heat pumps are already a proven and vastly popular solution throughout even the coldest countries in mainland Europe; in Sweden alone, 97% of all new housing projects use them as their source of heating. However here in the UK houseowners and developers have only recently started waking up to their overwhelming benefits of heat pump systems. Why? Not only are they an efficient form of heating, but reserves of fossil fuels are finite and Carbon Dioxide emissions are continually contributing to climate change. Heat Pumps are operational around the world, producing safe, reliable heating and cooling. When used in conjunction with a green electricity supplier, Heat Pumps can be a greenhouse gas emission free heating method.
HEAT PUMP BENEFITS
Heat Pumps don't feature an open flame, therefore guarding against any possible fuel leaks or carbon-monoxide poisoning
Heat is available whatever the weather, day or night
No need for an expensive gas connection or an unsightly fuel tank
Can be used to heat a swimming pool or self contained out-building
The average coefficient of performance (CoP) is between 3-4 units, this means that for every 1kW used to run the heat pump 3-4 kW of usable heat energy can be produced. Well designed systems can even provide CoPs of up to 5.
What are the different types of heat pump?
---
Ground Source Heat Pump
Ground Source Heat Pumps are dependant on an area surrounding a property. The cheapest method for ground source heat pumps is a horizontal loop which requires a large land surface area (typically 2.5 times the square meterage of the house as a very approximate average). If there isn't enough land available then the alternative would be to create a vertical closed loop system. Both offer the similar efficiencies; each have their advantages.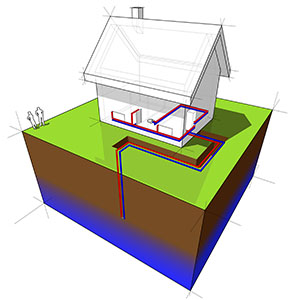 Air Source Heat Pump
Air Source Heat Pumps are a great solution where space is at a premium or where there is no garden. They can be installed anywhere where there is a constant access to outside air. This can range from; being rested on the ground outside or suspended on a bracket on a wall.
These ar the cheapest form of heat pump to install but the least efficient.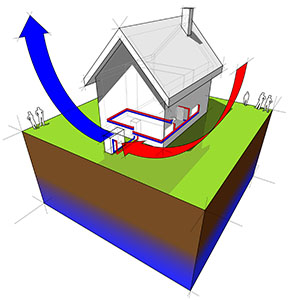 Water Source Heat Pump
A Water Source Heat Pump is most suitable when there is a water supply near by such as a river, lake or a borehole (these can be drilled by us dependant on water content of land). A water source can be the most efficient form of heat pump as the water is passed directly through the heat pump from from the source. Additional permissions are sometimes required though which can often delay such projects.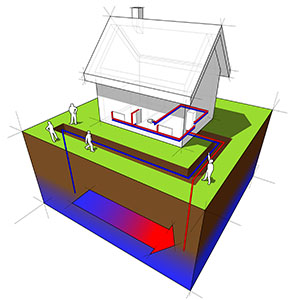 ---
Information Videos of the installation of GSHP pipework.
---
OUR Approach
Thermal Earth's Heat Pump solutions are compatible with most people's homes. Simply contact us for advice and we can then advise you on a system to meet your exact needs and put you in touch with a suitable installer in your area.
Your new heating system should be a custom fit for your home. The correct sizing of a heating system along with a handful of other installation practices is crucial in order to make the savings, have the comfort and reduce your carbon foot-print.
Thermal Earth will not size your equipment based on merely square footage, or past heating systems, we conduct heat loss calculations which are tailored specifically around the set of plans given to us, or measurements and data captured through an on site visit.
We have a series of FAQ's for Heat Pumps. Please click Here