WHAT IS UNDERFLOOR HEATING?
Underfloor heating (UFH) is not a new form of central heating but is a choice of heating which has been neglected over the years. Due to material and technological advancements, underfloor heating systems are now far more practical, efficient and comfortable than ever. Unsightly radiators can become a thing of the past, maximising space in your house whilst providing a more effective heating solution.
Underfloor heating is the most efficient form of heating as it works in harmony with the convectional flow. It is spread out across the floor, heating from the ground up. This ensures that the whole room is heated evenly and creates a more comfortable environment as head height is cooler than feet level.
Each room where underfloor heating is placed can be individually controlled. This allows you to set a temperature suited to the room, or turn off the heating in rooms that aren't being used or require little heating.
Underfloor heating water temperatures are lower than that of radiators as they are a more efficient heating method. A lower input water temperature means that heater does not need to use so much energy, thus reducing the cost the home owner. The lower input water temperature makes UFH ideal for use with Thermal Earth's range of MasterTherm Heat Pumps and Solar Thermal Systems.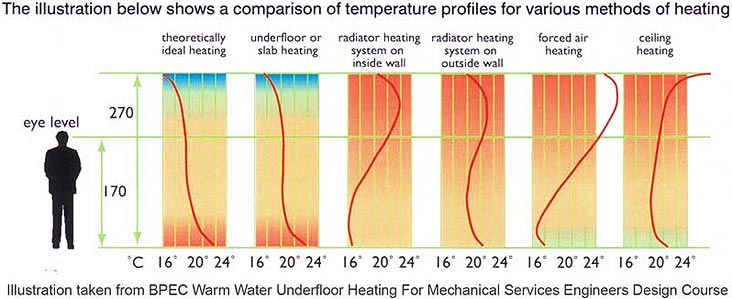 BENEFITS
Underfloor heating reduces the airborne circulation of dust and dust mites, creating a healthier and cleaner environment
UFH is a low temperature system making it perfect for renewable hot water sources such as solar thermal and

heat pumps

Cleaning floors is easier and wet floors dry much quicker
Hot air rises, which is why heating from the ground up is the most sensible and efficient method of heating
Compared to conventional radiator systems, uderfloor heating is silent. You won't hearn any pipes clanking
OUR UNDERFLOOR HEATING SOLUTION
Thermal Earth's underfloor heating solution is suitable for domestic and commercial applications. We use the latest multi-layer pipe constructed from cross-linked polyethylene (PERT-AL-PERT) sandwiching a layer of aluminium. This provides supreme strength and is guaranteed to be 100% oxygen impermeable, unlike PEX or PB pipe. The pipe has a design life in excess of 50 years with higher operating temperature and pressure parameters than PEX or PB. The inner core ensures low maintenance because it is highly resistant to all forms of corrosion. This means you never need to be concerned about what is under the floor. The pipe manufactured to ISO9001 quality standards and complies with all of the relevant UK and EU approvals.
We supply, fit and maintain your underfloor heating. Our professional team is engineer-led, meaning we know all of our products, inside out – you can leave all of the work to us!
UNDERFLOOR HEATING INSTALLATION TYPES
Thermal Earth's Underfloor Heating are compatible with most people's homes. No matter what flooring type you currently have in your home, there is a method for installing underfloor heating and making your heating system a lot more efficient.
Each property is different and has unique characteristics during the underfloor heating design stage. If you'd like more information or a free, no obligation quotation for underfloor heating, simply contact us on +44 (0) 1269 833100 or visit our Contact Us page. We can then advise you on a system to meet your exact needs.
To see our extensive series of FAQ's for Underfloor Heating, please click Here