WHAT IS UNDERFLOOR HEATING?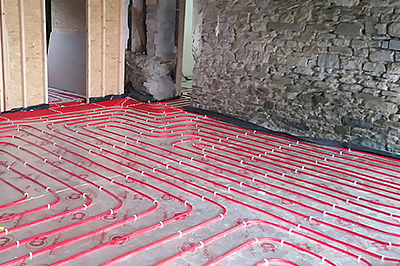 Underfloor heating (UFH) is not a new form of central heating but is a choice of heating which has been neglected over the years. Due to material and technological advancements, underfloor heating systems are now far more practical, efficient and comfortable than ever. Unsightly radiators can become a thing of the past, maximising space in your house whilst providing a more effective heating solution.
Underfloor heating is the most efficient form of heating as it works in harmony with the convectional flow. It is spread out across the floor, heating from the ground up. This ensures that the whole room is heated evenly and creates a more comfortable environment as head height is cooler than feet level.
Each room where underfloor heating is placed can be individually controlled. This allows you to set a temperature suited to the room, or turn off the heating in rooms that aren't being used or require little heating.
Underfloor heating water temperatures are lower than that of radiators as they are a more efficient heating method. A lower input water temperature means that heater does not need to use so much energy, thus reducing the cost the home owner. The lower input water temperature makes UFH ideal for use with Thermal Earth's range of MasterTherm Heat Pumps and Solar Thermal Systems.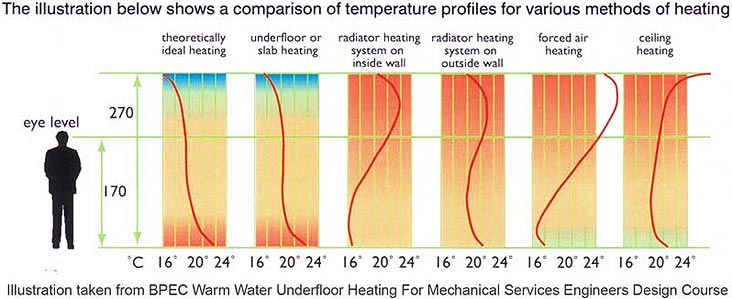 BENEFITS
Underfloor heating reduces the airborne circulation of dust and dust mites, creating a healthier and cleaner environment

UFH is a low temperature system making it perfect for renewable hot water sources such as solar thermal and heat pumps

Cleaning floors is easier and wet floors dry much quicker

Hot air rises, which is why heating from the ground up is the most sensible and efficient method of heating

Compared to conventional radiator systems, uderfloor heating is silent. You won't hearn any pipes clanking
OUR UNDERFLOOR HEATING SOLUTION
Thermal Earth's underfloor heating solution is suitable for domestic and commercial applications. We use the latest multi-layer pipe constructed from cross-linked polyethylene (PERT-AL-PERT) sandwiching a layer of aluminium. This provides supreme strength and is guaranteed to be 100% oxygen impermeable, unlike PEX or PB pipe. The pipe has a design life in excess of 50 years with higher operating temperature and pressure parameters than PEX or PB. The inner core ensures low maintenance because it is highly resistant to all forms of corrosion. This means you never need to be concerned about what is under the floor. The pipe manufactured to ISO9001 quality standards and complies with all of the relevant UK and EU approvals.
We supply, fit and maintain your underfloor heating. Our professional team is engineer-led, meaning we know all of our products, inside out – you can leave all of the work to us!
UNDERFLOOR HEATING INSTALLATION TYPES
Thermal Earth's Underfloor Heating are compatible with most people's homes. No matter what flooring type you currently have in your home, there is a method for installing underfloor heating and making your heating system a lot more efficient.
Each property is different and has unique characteristics during the underfloor heating design stage. If you'd like more information or a free, no obligation quotation for underfloor heating, simply contact us on +44 (0) 1269 833100 or visit our Contact Us page. We can then advise you on a system to meet your exact needs.
Simply, Click Here To see our extensive series of FAQ's for Underfloor Heating

Frequently Asked Questions
IS IT EXPENSIVE TO INSTALL?
No. Generally, underfloor heating solutions are quicker and cheaper to install than most other traditional systems. This does depend on the type of system you choose and your final floor finish but as systems can be completed in one stage, costs can be reduced.
WHICH FLOOR COVERINGS WORK BEST?
Underfloor heating works well with a variety of commonly used floor coverings. Underfloor heating is more commonly installed under tile floors, such as ceramic, stone or terracotta. But while tile floors generally work best, underfloor heating can also be installed under carpet and timber, or vinyl and laminate floor coverings. When installing underfloor heating underneath timber floors, be sure to check that the wood is recommended for installation with underfloor heating. As experienced designers, Thermal Earth will be able to make brand recommendations as well as discuss the various requirements during installation to make sure your flooring will work efficiently with the system being installed. Carpets tend to insulate heat which you will need to be mindful of if choosing to pair it with your underfloor heating system. Carpet can work well though, so long as you choose the correct tog value of both the carpet and underlay. Again, the right choice can be made with our advice and help. Tiles are more commonly used on top of underfloor heating. This is thanks to their rise in popularity for modern interiors and the ability to prevent the feeling of a cold tiled floor under foot is always desirable. Thicker tiles will inevitably take longer to heat up, but once the optimum temperature is reached there is little difference in efficiency between thicker and thinner surfaces. Vinyl and laminate floor coverings can be used as long as they again are recommended for underfloor heating use. Not all vinyls and laminates are compatible so make sure you check before hand. We will be able to discuss your options and make brand recommendations to help you make the best choice.
WHY DOES IT TAKE SO LONG TO REACT TO TEMPERATURE CHANGE?
Underfloor heating systems, once warm, will provide comfortable heat across the whole area it is installed, continuously. However, as it's typically installed below the floor it takes time for the underfloor heating system to heat up and cool down. For changes in temperature (i.e. the end user feels warm) we recommend you adjust the thermostat in increments of no-more than 1°c +/-. This will allow the system to activate and give it 24 hours to balance. When using underfloor heating systems in conjunction with a heat pump and you wish to use the set-back feature, we recommend a set-back temperature of no more than 2°c.
SHOULD IT BE INSTALLED UNDER KITCHEN UNITS?
As the underfloor heating pipework will be installed in the floor for many years and the design layout of the kitchen may change, whether or not to fit underfloor heating under kitchen units is very much a customer decision. If its the case that the pipework gets installed under kitchen units it is advised to install some insulation under the units to prevent the interior of the units overheating.
DOES IT REQUIRE MAINTENANCE?
No. An underfloor heating system does not require any maintenance. As with any heating system, though, occasional operating checks should be carried out on the system as a whole.
CAN IT BE USED WITH RADIATORS ON OTHER FLOORS?
Yes. For example, underfloor heating can be installed on the ground floor and radiators installed on the first floor. It is important this decision is made as early as possible for the designer of the system to incorporate certain components and controls into the system to allow these 2 systems to operate effectively at 2 different temperatures.
Dependent on the heat source, underfloor heating can be the most economic methods to heat a home. When coupled with a low temperature heat pump system, underfloor heating is highly efficient as it heats your home from the ground up, following the natural convectional flow. The more efficient your heating system is, the greater the potential for reducing your energy bills.
Yes, underfloor heating is very easy to control. Here at Thermal Earth our range of underfloor heating systems includes a number of different types of thermostats to allow single or multiple zone control. We can provide options to control seperate floors or individual rooms to provide flexibility and efficiency on how you heat your home.
Even for the most confident DIY-er, installing underfloor heating can prove to be a tricky and time consuming task. Although there are aspects of the design and installation process that can be done by the homeowner, there are other components of the job which require the knowledge and understanding of a skilled and qualified professional. Given the fact that once the flooring is laid, it would be difficult to access again if errors were made during installation, it is always the best option to call upon the skills of a professional to ensure the job is done safely and correctly in the first place. Whatever level of involvement you choose to have in the installation of your underfloor heating system, electrical and gas connections must always be carried about by qualified professionals. Using qualified professionals will ensure that in the event of anything going wrong, your home insurance is still valid, whereas if you were to do the work yourself, you would be liable to pay for any damages incurred. In addition to the job being made more easy, safe and more professional, a reputable installer will be able to offer advice throughout the planning phase, much of which can prove invaluable and can safeguard against any errors being made in terms of choice of system, installation methods and much more. When choosing an installer, make sure that you check their qualifications and industry accreditation's. It's also important to find out what sort of pre service advice and post service support, maintenance and warranties they offer.