Here's how an air source heat pump system can save you energy and money.

WHAT IS AN AIR SOURCE HEAT PUMP?
An air source heat pump is a low-carbon, renewable heat source and an alternative heating system to conventional gas or oil boilers, that is suitable for a wide range of homes.
They are external units installed to extract thermal energy from the air in order to provide heating and hot water for your home or business premises.
For every unit of energy, it uses to extract heat from the air, it typically outputs three times more as heat, meaning ASHP efficiency is around 300%, which can significantly reduce the cost of your energy bills.
Air source heat pump benefits include:
Low carbon, environmentally friendly heat source

Highly efficient, transferring around three times more energy into a home as heat than it uses to extract it from the air. For every 1kW of electrical energy used to power the air source heat pump, 3-4kW of heat energy is returned

Capable of also providing active cooling which saves time, money and space compared to installing a seperate AC system

Little outdoor space required, meaning an air source heat pump system is suitable for most urban properties

Air source heat pumps are relatively quick to install, require little maintenance and have a long lifespan of around 20 years

Safer than fossil fuel-burning systems. An air source heat pump system is powered entirely by electricity and is combustion-free

Eligible for the government Boiler Upgrade Scheme
---
How Does an Air Source Heat Pump Work?
Air source heat pumps work on the same basis as air conditioning units or refrigerators, but in reverse by collecting energy from the air, even at low temperatures. As the air source heat pump system sits outside the property, in a position that allows for a steady flow of air, it goes through the following 4 stages:

1. EVAPORATION
The energy is absorbed from the air by large fans on the unit that draw the air in, before passing over a heat exchanger that sits directly behind the fan. Through the heat exchanger flows a liquid refrigerant and as the ambient temperature stored in the air comes into contact with the heat exchanger, the liquid refrigerant heats up. This process increases the temperature of the refrigerant changing it from a liquid to a vapour
2.

COMPRESSOR
The warmed-up refrigerant is then passed into a compressor where it is condensed and its temperature is raised further by an electrically driven compressor to a point where it is ready for distribution around the central heating system of a home.
3.

Condenser
The condenser then releases this heat energy into the water used in your heating and hot water system
4.

Expansion Valve
The cooled refrigerant turns back into a liquid and the process starts again
The most common setup with an air source heat pump system is to install a buffer tank inside the home. The buffer tank stores hot water, warmed directly by the heat pump. The water in the buffer tank is used around the home's central heating system, heating up radiators and underfloor heating. The cold water from the central heating system is then fed back into the buffer tank to be re-heated, creating one continuous loop.
Typically, a separate hot water tank will also be installed in the property. The hot water tank is separate to the buffer tank but is also heated by the air source heat pump. A hot water tank is used to provide instant hot water for the home. As air source heat pumps work at lower temperatures, they are best suited to underfloor heating or low-temperature radiators. This is not to say these are necessary for an air source heat pump to work, but they will aid its efficiency.

IS AN AIR SOURCE HEAT PUMP RIGHT FOR MY HOUSE?
An air source heat pump is right for you if:
An ASHP can be installed in a range of properties, whether small or large, new or existing properties, rural or urban. All of which can benefit from the energy-saving capabilities of a heat pump.
You are looking for a low-carbon, eco-friendly and sustainable way to heat your home

The property is well insulated – this is important for efficiency and keeping running costs low

There is enough outdoor space for the ASHP unit to be fitted to an exterior wall, with enough space around it to get a good flow of air and at least 2 metres away from your neighbours' boundary.
You may also want to consider the following when installing an air source heat pump:
The SCOP rating of the System- this stands for (Seasonal coefficient of performance) and the higher this number is the more efficient the heat pump. The more efficient your heat pump, the more you'll save on your energy bill

The units sound rating - Look for a heat pump with a published sound rating, most are no louder than a large fridge freezer but it's always best to check

MCS approved product and installer - make sure the heat pump is an MCS approved product and that your installer is MCS approved. This will give you protection if anything goes wrong with your installation and also ensures you're able to claim financial initiatives such as BUS

System design - make sure your installer carries out heat loss reports and heat load reports. Design is fundamental as an undersized system means your heating may not reach your desired temperatures and will be working harder, reducing efficiency, whilst an oversized system is unnecessary and will cost more both for the actual heat pump and for monthly energy bills than a correctly sized system.

Aftercare - Does your installer and the heat pump manufacturer offer aftercare and technical support? Heat pumps do operate differently to gas boilers and it's always helpful to know someone is just a phone call away if you have a question or you're unsure if your system is working correctly.
At Thermal Earth, we are MCS accredited, along with all our products. We also offer the quietest air source heat pump on the market currently, with an output of 48 dBA. Our inhouse design team, will also work with you every step of the way to design the most efficient system for your property. As our systems are also enabled with remote diagnostics, we are able to see how your system is performing and often correct any faults without ever needing to carry out a call out (saving you having to wait at home for an Engineer).
HOW MUCH DOES A HEAT PUMP COST?
There is no set cost when it comes to installing a heat pump as the cost is directly reflected in the size of your property.
However, you can expect a high-quality and well-designed air source heat pump system to cost from £5,500, with installation for a 250m2 property in the region of £15,000.
A bespoke design, tailored to the property

Installation schematics

Lifetime technical support

MCS accreditation, required to access government grants

The ASHP, domestic hot water cylinder, buffer tank, circulation pumps and all of the connecting brassware for the components
It's possible to reduce the initial cost of installing an air source heating system by applying for government incentives like the Boiler Upgrade Scheme, which offers an upfront voucher of £5000 for eligible properties
WHAT ARE THE RUNNING COSTS OF AN AIR SOURCE HEAT PUMP?
Air source heat pumps are incredibly efficient and a correctly designed system can provide low running costs. To give you an idea of their efficiency a new gas boiler has an efficiency of around 90% whereas an ASHP has an efficiency of around 300-400%.
This means the energy you're using goes further, so you need less of it, which in turn reduces your monthly energy bills. Therefore, an ASHP is even more appealing as it's likely to offer you significant savings on running costs.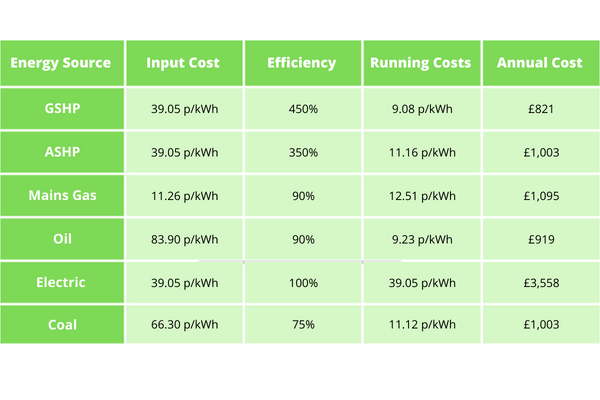 *Please use this table as a guide as energy prices can vary. Correct of July 2023. **Annual running cost prices are based on an average 4 bed detached house with a energy consumption of 25,000 kWh per year.
How much does it cost to maintain an ASHP?
Like most heat sources, an air source heat pump should be serviced each year by a competent heating engineer.
The service will include mostly visual checks, checking settings haven't changed and that the heat pump is still working efficiently.
AIR SOURCE HEAT PUMP FUNDING

By choosing to install an air source heat pump, you are helping the Government in their 10-point plan for a green revolution. Part of this plan is to make the move away from fossil fuels to low carbon heating, installing 600,000 heat pumps every year by 2028.
To encourage the uptake of heat pumps and help reduce the costs, the Government offers financial incentives.
The Boiler Upgrade Scheme
The government recognises that air source heat pumps play an important role in reducing carbon emissions from the UK's homes. Therefore air source heat pump grants have been included in the Boiler Upgrade Scheme.
The Boiler Upgrade Scheme offers an upfront voucher of £5000 towards the installation of an air source heat pump, helping to reduce the overall cost.
As the name suggests, the scheme is aimed at existing properties, encouraging the switch from fossil fuel boilers to low carbon heat pumps.
Learn more on how you can save
Our range of ASHP
At Thermal Earth, we only use the highest quality, tried-and-tested components for all our systems. That's why we are the exclusive UK distributors of both ACOND and MasterTherm ASHPs. Through our design and installation, both these manufactures offer an efficient, low-carbon, solution for domestic hot water and space heating.
ACOND

Air source heat pumps
ACOND have been manufacturing heat pumps for 25 years and offer industry-leading ASHPs that not only look great, but also offer the highest levels of performance and functionality.
The ACOND PRO systems whisper, giving you peace and quiet without any negative effects on your neighbours.
Smart Technology with a high tech engineer control panel

Acoustic output of 48dBA to 49dBA

Air temperature operating range from -22°c to 35°c

Water output temperature capacity between 20°c to 70°c

Compact units available from 1.5kW up to 18kW

5-year warranty as standard plus 10 years on the compressor when commissioned by a Thermal Earth engineer
ARISTON AIR COURSE HEAT PUMPS
Ariston is a global specialist in heating, with an extensive range of innovative and energy conscious products designed to improve home life. Creating more comfort from less energy. With the successful development and launch of their Heat Pump range in 2000 making their move into sustainable heating technology.
The Ariston Nimbus offers:
10-year warranty (subject to annual servicing)

Onboard connectivity for remote diagnostics

Eco refrigerant R32

COP up to 5.1

Low noise levels of 53 dB(A)

Power range 1.7 to 17.7 kW
MasterTherm air source heat pumps
For over 25 years MasterTherm have been pioneering heat pump technology to deliver high quality systems which use inverter technology to increase unit lifespan and efficiency. Suitable for projects of all sizes from residential to industrial, MasterTherm heat pumps offer unique features such as:
Remote technical monitoring

Compact units available from 2kW up to 35kW

MCS approved for accessing government grants

7-year warranty when commissioned by a Thermal Earth engineer

Zone control for up to 6 heating circuits

Simultaneous heating and cooling

Compatibility with variable tariffs and load shifting
Frequently asked questions;
Are Air Source Heat Pumps Efficient?
An air source heat pump is around 300% efficient. This is because for every unit of energy it uses to extract heat from the air, it typically outputs over 3 units of heat energy into the property. However, It is also dependent on the characteristics of the home the heat pump is being installed in. These characteristics include: • Where on the property the air source heat pump is located • How well insulated the property is • The brand of heat pump installed • The heat pump has been designed properly for the property size
Are air source heat pumps noisy?
No, most air source heat pumps are no louder than a fridge/freezer or dishwasher. Even if you need to install your heat pump near your outdoor sitting area you're less likely to use this space during the winter when the heat pump is running more often.
How long does it take to install an air source heat pump?
It takes around 2-3 days depending on whether there is an existing heating system and what that system is.
What are the disadvantages of an air source heat pump?
• Cost - Whilst the more affordable heat pump option, air source heat pumps are not yet produced on the same scale as gas or oil boilers, so they are more expensive to purchase. • Planning Permission - In some cases you may be required to apply for planning permission. This usually applies for listed buildings in AONB or National Parks. • Space - If you have a relatively small outdoor area, an air source heat pump could take up a proportion of this - it also needs to be installed at least 2 metres away from your neighbour's boundary.
Can air source heat pumps be installed in an older building?
Yes, it can, providing that the insulation is being improved – ideally as close to current build regulations as possible. This enables the air source heat pump to work efficiently and keeps running costs low.