Air Source Heat Pumps Explained
Find out everything you need to know including how they work, how efficient they are and why they are a reliable form of renewable energy.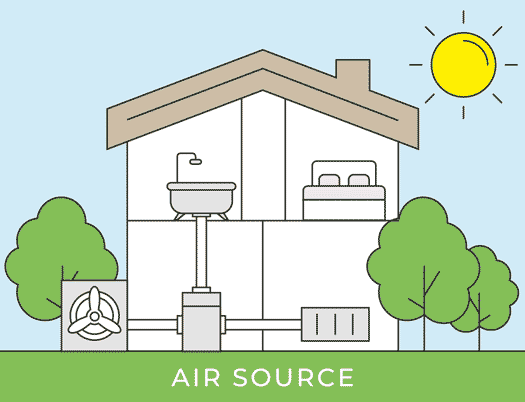 ---
What is an Air Source Heat Pump (ASHP)?
ASHPs are an alternative heating system to conventional gas or oil boilers. They are units which are installed outside a property which use thermal energy from the outside air to provide heating and hot water for a building. Air source heat pumps are a low-carbon, renewable technology. They offer efficiencies up to 300% which can significantly reduce the cost of your energy bill.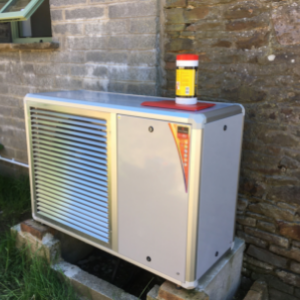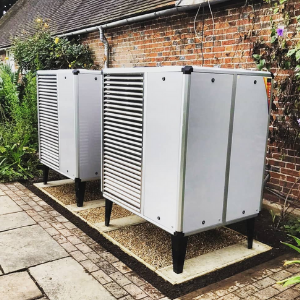 (Images: A single MasterTherm BoxAir heat pump; two larger BoxAir heat pumps deliverying heat to a large grade II listed building, outbuilding and swimming pool)
---
How Does an Air Source Heat Pump Work?
Air source heat pumps work on the same basis as air conditioning units or refrigerators, but in reverse. An air source heat pump system sits outside the property, in a position that allows for a steady flow of air.
Large fans on the air source heat pump unit draw air in, passing it over a heat exchanger that sits directly behind the large fan. Through the heat exchanger flows a liquid refrigerant, which functions at temperatures far below 0oC. As the ambient temperature stored in the air comes into contact with the heat exchanger, the liquid refrigerant heats up.
The warmed up refrigerant is passed to a compressor where it is condensed. Its temperature is raised further, to a point where it is ready for distribution around the central heating system of a home.
The most common setup with an air source heat pump system is to install a buffer tank inside the home. The buffer tank stores hot water, warmed directly by the heat pump. The water in the buffer tank is used around the home's central heating system, heating up radiators and underfloor heating. The cold water from the central heating system is then fed back into the buffer tank to be re-heated, creating one continuous loop.
Typically, a separate hot water tank will also be installed in the property. The hot water tank is separate to the buffer tank but is also heated by the air source heat pump. A hot water tank is used to provide instant hot water for the home. As air source heat pumps work at lower temperatures, they are best suited to underfloor heating or low-temperature radiators. This is not to say these are necessary for an air source heat pump to work, but they will aid its efficiency.
---
What are the Main Benefits of Installing an Air Source Heat Pump System?
An air source heat pump system is an entirely renewable form of heating. It's a system that is free from burning fossil fuels, and this brings huge advantages over gas or oil-fuelled heating systems:
Zero carbon emissions produced from your home
A far more efficient heating system – an air source heat pump system can return a coefficient of performance rating (CoP) of 3 or above. For every 1kW of electrical energy used to power the air source heat pump, 3kW of heat energy is returned
Capable of also providing active cooling which saves time, money and space compared to installing two separate systems
Air source heat pumps are relatively quick to install, require little maintenance and have a long lifespan of around 20 years
Intelligent zone controls and the ability to simultaneously heat one room whilst cooling another (ideal for different temperature preferences or for commercial manufacturing processes)
Safer than fossil fuel-burning systems. An air source heat pump system is powered entirely by electricity and is combustion-free.
More advanced - ability to integrate with smart tariffs and self optimise to save energy and money Air source heat pumps are a perfect complement to other renewable systems: underfloor heating and solar panels.
Government incentives are available to homeowners for funding the installation cost of an air source heat pump
Save on space inside your property as air source heat pumps are installed outdoors
No fuel deliveries needed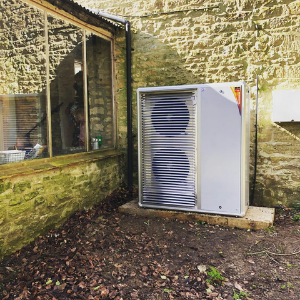 (Image: MasterTherm BoxAir Air Source Heat Pump installed at Cerney House Gardens Visitor Attraction)
---
What are the Disadvantages of Air Source Heat Pumps?
Cost - Whilst the more affordable heat pump option, air source heat pumps are not yet produced on the same scale as gas or oil boilers as so they are more expensive to purchase. This won't always be the case however.
Planning Permission - In some cases you may be required to apply for planning permission. This usually applies for listed buildings in AONB or National Parks.
Space - If you have a relatively small outdoor area, an air source heat pump could take up a proportion of this - it also needs to be installed at least 2 metres away from your neighbours boundary.
---
How Long Does it Take to Install an Air Source Heat Pump?
It takes around 2-3 days depending on whether there is an existing heating system and what that system is.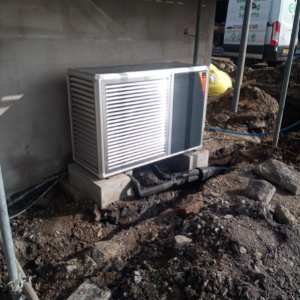 (Image: Custom coloured MasterTherm BoxAir air source heat pump being installed for a new build property)
---
How Much Space is Needed for an Air Source Heat Pump?
The heat pump will need to be at least 2 metres away from your neighbours boundary. In some instances (depending on where you live) you may also need to install the heat pump on a side or rear wall - this mainly applies to listed buildings, AONB and national parks. Air source heat pumps are not particularly large, as an example the MasterTherm BoxAir ranges from 1330mm wide and 885mm tall to those which are 1330mm wide and 1495mm tall. Air source heat pumps should be installed with a clearance gap away from the wall of the house to allow for airflow.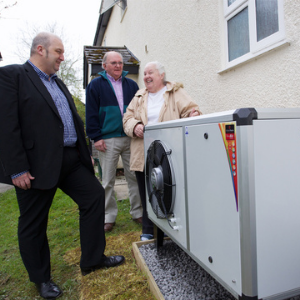 (Images: Previous style of MasterTherm BoxAir installed at a new build rural property; previous style of MasterTherm BoxAir installed at a social housing property)
---
Air Source Heat Pump Efficiency
How much electricity it takes to provide heating and hot water determines how efficient a heat pump is. The more electricity the heat pump has to use to get your home up to temperature, the less efficient it is.
A more efficient heat pump generally means that it won't have to work as hard to provide the heat needed. It'll keep power consumption to a minimum and cause less wear and tear on its components. This will reflect in lower running and maintenance cost for the homeowner.
But there isn't a one-size-fits-all approach to judging how efficient an air source heat pump will perform. It is dependent on the characteristics of the home the heat pump is being installed in.
These characteristics include:
Where on the property the air source heat pump is located
How well insulated the property is
The brand of heat pump installed
Using the heat pump in a way that is economical
---
How Much Does an Air Source Heat Pump Cost?
Cost is also a common question and we've created an article covering the topic including pricing examples, information on how much maintenance is required, how long the system lasts and funding options.
---
Are Air Source Heat Pumps Noisy?
No, most air source heat pumps are no louder than a fridge/freezer or dishwasher. Even if you need to install your heat pump near your outdoor sitting area you're less likely to use this space during the winter when the heat pump is running more often.
---
How Will Installing an Air Source Heat Pump Affect My Heating Bill?
Air source heat pumps are incredibly efficient, to give you an idea a new gas boiler has an efficiency of around 90% whereas an ASHP has an efficiency of around 300%. This means the energy you're using goes further, so you need less of it. When you're using less energy your monthly bill is reduced, we've had customers who have seen a 75% decrease in their monthly energy bill.
Because heat pumps automatically self-optimise, you can use them in conjunction with smart tariffs like Agile Octopus. Agile Octopus publishes half hour tariff rates a day in advance giving users the ability to use energy when it costs less to save money. A MasterTherm heat pump can 'read' this tariff and automatically self-optimise to run at times when electricity costs less whilst still achieving your preferred temperatures.
With MasterTherm your user interface (where you control your heating - like a thermostat) will even show you how much energy your system is using, how much it costs during that half hour period and whether that price is high, low or average so you have complete visibility.
---
What Are the Most Important Factors to Consider When Installing an Air Source Heat Pump?
Insulation - you'll need to ensure your property is well insulated before installing a heat pump, this helps to avoid heat loss and ensures the system can work as efficiently as possible
SCOP rating - this stands for (Seasonal coefficient of performance) and the higher this number is the more efficient the heat pump. The more efficient your heat pump, the more you'll save on your energy bill
Sound rating - Look for a heat pump with a published sound rating, most are no louder than a large fridge freezer but it's always best to check
MCS approved - make sure the heat pump is an MCS approved product and that your installer is MCS approved. This will give you protection if anything goes wrong with your installation and also ensures you're able to claim financial initiatives such as RHI
System design - make sure your installer carries out heat loss reports and heat load reports. Design is fundamental as an undersized system means your heating may not reach your desired temperatures and will be working harder, reducing efficiency, whilst an oversized system is unnecessary and will cost more both for the actual heat pump and for monthly energy bills than a correctly sized system.
Installer proficiency- If your installer carried out a site visit and system design you're on the right track, but also ask to see photos of their previous installations and check their customer reviews. Some installers may offer the chance for you to see an existing install and speak to an existing customer.
Aftercare - Does your installer and the heat pump manufacturer offer aftercare and technical support? Heat pumps do operate differently to gas boilers and it's always helpful to know someone is just a phone call away if you have a question or you're unsure if your system is working correctly. At Thermal Earth we supply MasterTherm heat pumps which are enabled with remote diagnostics so we can see how your system is performing and often correct any faults without ever needing to carry out a call out (saving you having to wait at home for an Engineer).
---
MasterTherm Air Source Heat Pumps
Thermal Earth is the UK-exclusive distributor of MasterTherm heat pumps. The Czech company is a giant in the renewable heating industry, leading the way on heat pump technology for 25 years. MasterTherm supply a wide range of air source and ground source heat pumps. One of the most popular units in the line-up is their air source heat pump, the BoxAir Inverter.
The BoxAir Inverter, as its name suggests, is a heat pump that features Inverter drive technology. The BoxAir heat pump reacts to the changing heat demand of the property and adjusts its output. Generally, it needs less power consumption and extends the lifespan of the heat pump. You can find out more about inverter heat pumps in our blog.
MasterTherm's air source heat pumps offer distinct advantages compared to its competitors.
Online functionality allowing remote control and 7-year warranty
Ultra quiet
Increased efficiency with inverter technology
---
You may also find these articles relating to ASHPs helpful: