Case Studies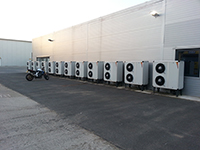 Case Study - Duplo International, Surrey
DUPLO INTERNATIONAL manufacture and distribute print finishers across Europe, the Middle East and Africa. In early 2011, they expanded their operations, acquiring a new manufacturing and distribution centre in Addlestone, Surrey.
Prior to relocating offices, Duplo International undertook extensive renovations to the property, which included the fitting of a new underfloor heating system. Keen to take advantage of the lucrative financial subsidies offered by the UK Government through the Non-Domestic Renewable Heat Incentive, they sought alternative heating options. While ground source heat pumps and biomass boilers were available at a discounted price due to space restrictions, air source heating seemed the only viable option for this property.
Thermal Earth supplied 12 MasterTherm BoxAir 18kW fixed output heat pumps, providing a total of 216kW of renewable heating. The air source heat pumps coupled with the existing solar PV array will see the company's fuel bill drastically reduced.