blog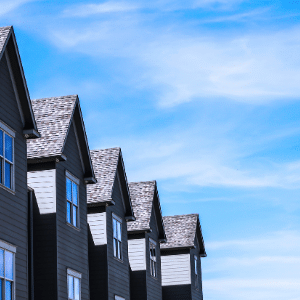 Ground Source Heat Pumps: How Much Space do you need?
Posted on 20 August 2021 in blog
EXACTLY HOW MUCH SPACE DO YOU NEED TO INSTALL A GROUND SOURCE HEAT PUMP?
This is one of our most frequently asked questions here at Thermal Earth as depending on the amount of space you have available and the type/quality of ground your property sits on, can affect whether the installation of your ground source heat pump uses vertical or horizontal ground loops, which in turn can affect the cost of installation.
If you've just started researching heat pumps and are thinking of having a system installed, you may find this short explanation of how they work helpful...
WHAT IS A GROUND SOURCE HEAT PUMP?
Ground source heat pumps (GSHPs) extract heat from the ground. This heat is extracted from rock or surface soil, and can also be extracted from underneath lakes and riverbeds. There are a couple of options for ground source heat pumps; you can drill a vertical borehole or dig shallow trenches horizontally. In either scenario ground collectors are laid which are coils of pipe circulating a solution of water and antifreeze, it's these pipes which collect the heat energy in the ground and pass it back to the heat pump where the temperature is raised and then used to efficiently provide heating and hot water all year round.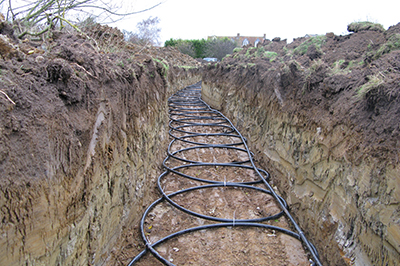 HOW MUCH SPACE IS NEEDED FOR HORIZONTAL GROUND LOOPS?
Generally for horizontal ground loops (or slinkies) trenches are 100 metres long and 1-2 metres deep, these will hold around 200 metres of pipe which run 100 metres away from the property and 100 metres back. Depending on the size of your property and the heat load it requires will affect how many trenches you require. On average the surface area of land required is approximately 2.5 times the square meterage of the house. As an example:
Detached New Build Home with 4 Bedrooms
House Size = 1582. sq ft x 2.5 = 3,955 sq ft of land required
The trenches are dug using a small excavator, so there needs to be enough room for this to enter the site.
There are additional factors to consider when calculating the amount of land required, including the number of trees there are and the ground conditions.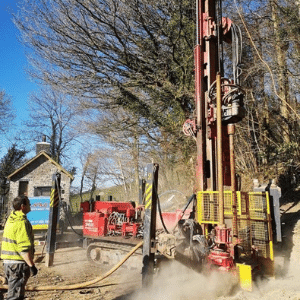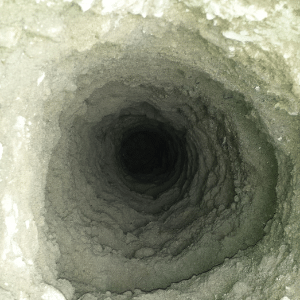 HOW MUCH SPACE IS NEEDED FOR BOREHOLES AND THE INSTALLATION OF VERTICAL GROUND LOOPS?
Boreholes are usually drilled down around 100 metres where the ground is a constant 10-12°C, this makes vertical systems often more efficient as they are not impacted by the changing seasons. Boreholes are often chosen due to lack of space or unsuitable ground conditions for horizontal trenches. A vertical system needs enough space for the drilling rig to enter the site which can be tricky in built up areas, however the boreholes are only around 20cm wide. If multiple boreholes are needed, these are placed 5-6 metres apart. How many boreholes you need depends on the required heat load for your home (typically the bigger the property the more boreholes required) and also the type of ground your property sits on. On average 1 borehole is required per 6kW, meaning one borehole for a small residential property is usually enough. It takes approximately 2 days to drill one borehole.
As with the installation of horizontal ground loops, there are elements which can affect whether boreholes can be drilled near your property. This is predominantly the type of ground you have, for example green sand and clay are not ideal, rock and wet ground however are better conditions.
You might be wondering how we know if the ground condition is suitable for boreholes before we actually begin drilling? When carrying out a site survey we'll also reference the British Geological Survey website to see if any boreholes have been drilled in the vicinity of your area and if so, what the conditions were like. If you'd like more information on boreholes and the drilling process get in touch, we provide drilling services for a variety of customers from homeowners to other renewable heating installers.
Boreholes are a more expensive method of installation, this is due to the cost of transporting the drilling rig and the specialist team required to operate it.
PLANT ROOMS
When you're planning for a heat pump, you'll also need to consider where the unit will go. Ground source heat pumps come in many different sizes, from those which are small enough to fit in an airing cupboard or a cupboard underneath the stairs to larger models which can be the size of a washing machine or fridge freezer. The heat pump model available to you will depend on the heat output your property requires. For industrial heat pump systems, it's not unusual to have two or more heat pumps working together in a cascade system to provide the necessary heat output, which would usually involve having a dedicated plant room. In most cases, residential heat pumps are installed in a utility room, garage or outbuilding. As a recommended space for your heat pump we'd recommend an area around 1x3 metres in size.
FURTHER READING
Benefits of Inverter vs Fixed Output Heat Pumps
How Much Does a Heat Pump Cost?
Different Types of Ground Collectors