Rehau Pre-Insulated Pipe
RAUVITHERM - THE NEW FLEXIBLE PRE-INSULATED PIPE SYSTEM
Pre-insulated pipe specialist REHAU has developed a new pipe system for the rapidly growing district heating market in the UK. RAUVITHERM combines the key advantages of high flexibility with high thermal insulation properties.
RAUVITHERM is available in single pipe (UNO) up to 125mm and twin pipe (DUO) up to 63mm, with a comprehensive range of fittings and accessories
Benefits at a glance
Greater flexibility due to corrugated outer sleeve and open cell insulation, allowing a tight bending radius.
Robust HDPE outer sleeve to cope with tough on-site conditions.
Long lengths up to 350m possible, reducing number of joints needed for long pipe runs.
Good insulation performance from several layers of insulation.
Bonded outer layer of the insulation prevents water ingress even if the outer jacket is punctured.
This ensures high insulation performance. Uses renowned EVERLOC leak-proof fittings and tools.
Installed quickly and easily
RAUVITHERM adapts to any routing conditions without any problems due to its flexible outer sleeve and the PEX insulation. Espe- cially when being installed on to existing building sites, the demands on the installation increase due to small distances be- tween buildings, narrow trenches, and close branches. RAUVITHERM is an extremely flexible pre-insulated pipe system for specialist contractors. Without any special effort, the flexible pipe can be installed around corners and pulled into house inlets. Even the tightest bending radii are achieved without damage and without compromising on the quality.
Safe and economic in operation Thanks to its low weight and the innovative compression sleeve jointing technology, RAUVITHERM can be connected easily and securely with the compression tool. The REHAU EVERLOC compression sleeve technology to connect PE-Xa pipes has been proven a million times in applications such as underfloor heating and plumbing.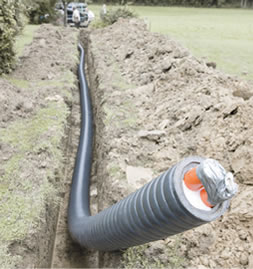 The properties of RAUVITHERM
Permanently sealed and non-detachable compression sleeve joints during pipeline operation
Optimum hydraulic performance through pipe and jointing technology
Quick installation without welding (no hot works)
Potential applications
Air-source/ground-source heat pump connections - Hot/cold water transport
CHP and district heating schemes
Anaerobic digestion/Biogas plants
Swimming pools
External plant rooms
More Information
To view the range of Rehau District Heating Pipework available from Thermal Earth please click here:
Rehau District Heating Pipework
For more information on Rehau District Heating Pipework and related products, please contact us using the link below: