Tesla Powerwall
Tesla Powerwall 2 allows you to capture the excess solar energy you generate during the day rather than letting it go to waste. You can then use this energy, around the clock at the times when you need it. This way, on a typical day, you can power your home with 100% solar energy! Partnered with a MasterTherm Heat Pump, this will minimise your overall import from the grid giving you even lower running costs.
Why Tesla Powerwall?
Tesla Powerwall 2 has a much greater capacity (13.5 kWh) than other batteries, meaning that it can store a lot more of your solar energy.
It also looks the part in the modern home. It can be wall hung and installed inside or out so that it always meet your needs.
Comes with a 10-year Power Warranty and a 5-year Workmanship Warranty as standard.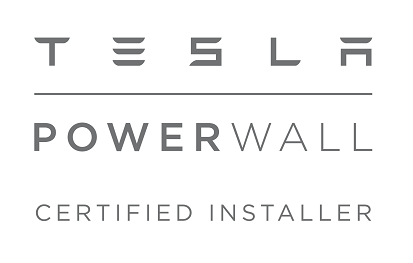 Powerwall gives you the ability to store energy for later use and works with or without solar. Each Powerwall system includes at least one Powerwall and a Backup Gateway, which provides energy monitoring, metering and management for the system. The Backup Gateway learns and adapts to your energy use over time, receives over-the-air updates just like the rest of Tesla's products and is capable of managing up to ten Powerwalls.
With Solar
When the sun rises, solar begins powering the home. When additional power is required within the home, the home can pull from the utility grid.
Powerwall is charged by solar during the day, when solar panels are producing more electricity than the home is consuming. Powerwall then stores that energy until the home needs it, such as when solar is no longer producing at night, or when the utility grid is offline during a power outage.
The next day when the sun comes out, solar recharges Powerwall so you have a cycle of clean, renewable energy.
Without Solar
If your electricity rates vary throughout the day, Powerwall will charge when electricity costs are low and discharge when electricity costs are high, generating automatic savings. Powerwall will also provide backup power by detecting grid outages and automatically becoming the home's main power source.
To find out the cost of a Tesla Powerwall Battery please get in touch. Whether you have a clear understanding of the system you want to install or you're learning about the advantages of a Tesla Powerwall Home Battery for the first time, our knowledgeable team will be happy to guide you through the process and provide you with a free, accurate, no-obligation quote.