Case Studies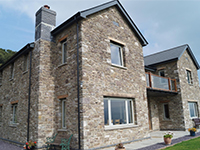 Case Study - Crickhowell, Powys
Mr. Morris was undertaking extensive changes to both his farm and award-winning apple juice production plant in Mid-Wales. Having visited and spoken to representatives from Thermal Earth at the Royal Welsh Show, he was keen to explore less traditional options to heat his new-build farmhouse.
Mr. Morris took the decision to install a high efficiency MasterTherm AquaMaster Inverter ground source heat pump. With demand likely to fluctuate as his children leave the family home, it was clear that the benefits on offer from the MasterTherm unit's modulating capabilities would help maximise the efficiency of heating Mr. Morris's property.

The MasterTherm AquaMaster Inverter is our flagship product. Its compact design combined with brushless DC inverter-driven compressor and single phase capacity to 22kW, as well as its market-leading 7-year warranty makes it one of the most powerful and efficient units on the UK renewable heating market. The ability to modulate speed and power increases the overall system efficiency by up to 20%. MasterTherm's online capabilities which includes remote diagnostics allows for control of the unit from any location.
Although oil was an option, I wanted to integrate as much renewable technology as possible. I cannot give enough praise. Both heating and electricity bills are significantly lower than my old, less efficient and larger Farmhouse. The real added bonus are my RHI payments for both the solar thermal and heat pump. From quotation through to installation, it's been faultless!