Case Studies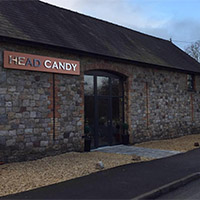 Case Study - Head Candy Salon
supply and installation for a commercial property - head candy hair salon.
Head Candy is a popular Hair Salon located in Ammanford, Carmarthenshire. Head Candy came to us at Thermal Earth looking for a reliable and renewable heating system for the salon.
After conducting a site visit and carrying out a survey, we found the best solution for the salon would be a MasterTherm AquaMaster 12kW single phase ground source heat pump with underfloor heating. The installation of underfloor heating has helped to maximise the floor space of the salon and maintain its design appeal by removing the need for radiators.
With the heat pump being connected to the internet, Head Candy can control their heating and hot water via the MasterTherm App on their mobile, tablet or web device. This gives the option of heating the heat pump up to the acquired level before the salon is even open, ensuring the customers have maximum comfort at the Head Candy Salon.
An added benefit of connecting your MasterTherm Heat pump to the internet is the heat pump then qualifies for MasterTherm's market leading 7 year warranty!
The MasterTherm app is available to download on Android & iOS.