Case Studies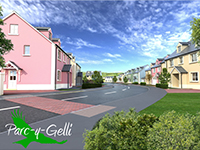 Case Study - Parc y Gelli, Carmarthenshire
Tai Developments is an award-winning Carmarthenshire housing developer. Keen to set themselves out against the competition, they opted to intergrate as many renewable technologies as possible into their new sites in Foelgastell.
In December 2010, they enlisted the help of Thermal Earth to provide the renewable energy solutions to their 40-house development in Foelgastell. A mixture of MasterTherm air source and ground source heat pumps were fitted with Solar Thermal Systems and Underfloor Heating to the luxury new dwellings over a four-year period.
The developer went on to win the highly coveted LABC Best Affordable Housing Award in 2012.
I have worked closely with Thermal Earth for over 5 years since breaking ground on our site in Foelgastell. They have been exceptionally supportive and responsive to my needs. The few issues we had were resolved in a timely manner with little disruption. I would not hesitate in recommending Thermal Earth to others seeking renewable alternatives - Andrew Griffiths, Director, TAI Developments Ltd