Energy Hub - Our Prefabricated Plant Room Solution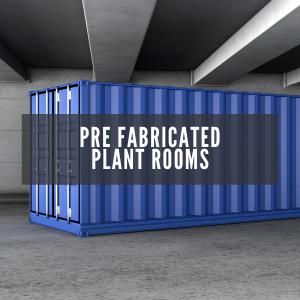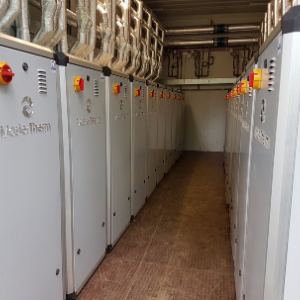 Our Energy Hub is a prefabricated plant room for renewable ground source heat pump systems. Each system is custom designed and specified for your project requirements. This plug and play solution is ideal for businesses seeking to replace fossil fuel systems, are restricted on plant room space or who want to minimise disruption caused by siteworks.
Features and Benefits
Pre-assembled to reduce onsite work
Sizes ranging from 200kW to 6MW
Custom project design and specification
Flow temperatures up to 65

°C (90°C with de-superheater)

Modulates down to 40kW with no loss of efficiency

Efficiencies up to 500% (800% in simultaneous cooling)

Tested and commissioned prior to delivery
WITHIN OUR ENERGY HUB WE CAN INSTALL PLANT ROOM FOR ONE OR MORE OF THE FOLLOWING SYSTEMS:
Ground and water source heat pumps (for heating and cooling)
Solar thermal
Solar PV
Energy storage
The Energy Hub was developed as a solution to scenarios commonly found within commercial or industrial settings when faced with the installation of a new heating and/or cooling system. Find out how the Energy Hub could help with each of these scenarios below.
Scenario 1: The installation will interfere with daily operations
We can appreciate that for any business to come to a standstill whilst an installation is underway is not ideal - particulaly when specialist heat pump and energy storage system installs can in some cases take several weeks. As the Energy Hub is constructed offsite and only transported when it's ready, this drastically reduces the requirement for onsite works and distruption to your operations.
Scenario 2: There is no suitable location within the building for a plant room
If a building has been purchased and the intention for its use now is different to how it will be used going forward, chances are it may not have a plant room or if it does it might not be the right size or in the right location due to renovation plans. The Energy Hub provides property developers with greater opportunity... an existing plant room doesn't have to remain a plant room neither does other space in the building have to be used as a plant room. Every square metre can instead be made available for another purpose.
Scenario 3: You'd like to create a system that provides energy to more than one building or facility
Whether your business has grown and you've purchased or constructed another building on your existing plot, or you're already running two seperate plant rooms in two buildings, the Energy Hub could be installed in a location which can conveniently provide energy to more than one location. This can provide operational benefits and improve the efficiency of your business.​
WHAT'S THE INSTALLATION PROCESS?
We meet with you to discuss your project requirements and then carry out a site visit to conduct feasbility studies and take any necessary measurements
After this visit we're able to provide you with a firm quote for the project
Once the quote is accepted we draw up the design and schematics for the plant room and procure all necessary elements of the system
We build the plant room at our HQ and test it
Once the system is ready we arrange delivery of the plant room to your site where we connect it and ensure it is fully functional, providing you with a complete handover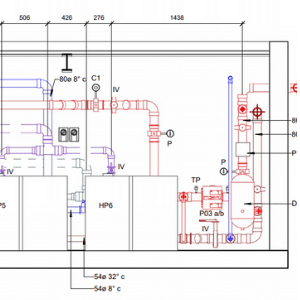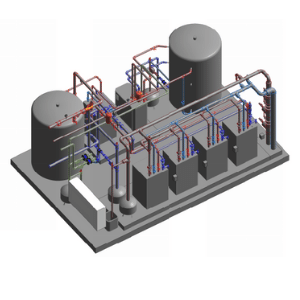 At Thermal Earth we provide a complete end to end service with our Energy Hub systems.From the consultation and feasibility studies to the design, procurement and installation -you can rely on our expertise throughout. Utilising technology from some of Europe's leading manufacturers our systems are robust, highly efficient and BMS/BEMS compatible.