Case Studies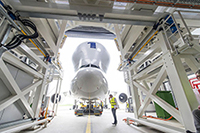 Case Study - Airbus Beluga Line, Broughton
AIRBUS is increasing capacity across its transport network with six new loading hangars dedicated to the company's five Beluga aircraft – which are the world's largest cargo carriers, developed to carry complete aircraft sections from different production sites around Europe to the final assembly lines in Toulouse or Hamburg. With the Hamburg station opening in mid-2014, the new Beluga Line Station in Broughton followed suit soon after in June 2015. To meet green credentials and without opting to install an outdoor unit, a MasterTherm EasyMaster (Indoor) was identified as the best heat pump to install.

The MasterTherm EasyMaster Indoor Split range represents a brand new concept of heat pump for indoor installation. Both the evaporator and fan unit are mounted inside, with ducted vents to draw air through the unit. The evaporator can be mounted up to 15 metres from the main unit and the two parts can be installed in two separate premises. The EasyMaster Indoor Split is the ideal solution for those situations where outdoor mounted units are simply not possible.
Credit: Airbus S.A.S 2015
Unique Concept of an Air Source Heat Pump Installed inside a Plant Room..