MasterTherm Heat Pump Training
Become an approved MasterTherm heat pump installer.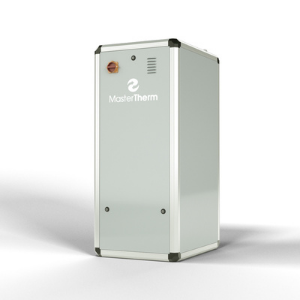 We offer MasterTherm accredited training courses for heating engineers to learn how to install air, ground and water source heat pumps. There's never been a better time to expand your range of services and products to include heat pumps, as the UK government has set a target to install 600,000 heat pumps a year by 2028. To encourage this high level of growth and adoption of renewable technology, gas boilers will be banned from installation in new build properties from 2025, providing you with an amazing opportunity to be part of the Green Industrial Revolution.
Our MasterTherm training courses are free to attend, however booking is essential. If you'd like to book a course, get in touch and we'll confirm your place.
COURSE INFORMATION
Duration: 1 Day
Location: Thermal Earth Training Academy, Ammanford
Tutor: Nick Salini, Thermal Earth Technical Director
Course Content: Our introductory courses will include information on specifying, installing, commissioning and maintaining MasterTherm heat pumps. However we also offer custom courses for those wishing to learn more about commercial systems, heat recovery, multi-faceted systems (systems including batteries and solar), hybrid systems, design optimisation and much more. Get in touch if you have a specific topic you'd like to cover.
Cost: Free
---
Why Train with Mastertherm?
MasterTherm have been pioneering heat pump technology for over 25 years. It's their main focus and it has enabled them to develop high performance, smart systems which are suitable for a range of applications from residential to commercial. MasterTherm heat pumps are MCS accredited which provides your customer with peace of mind and the option to claim the Renewable Heat Incentive. When you choose MasterTherm, you can rest-assured that you're offering your customers a best in class system which offers:
A 7 year warranty and lifetime technical support and aftercare
Smart integration with time of use tariffs like Agile Octopus which automatically optimises to heat properties at the lowest cost to save residents up to 35% on their energy bill
Online control through browsers or smartphone apps
Inverter technology
Passive and active cooling capabiilty
Simultaneous heating and cooling functionality
Weather compensation
Intelligent zone control for up to 6 heating circuits
Solar thermal integration
Swimming pool integration
Low noise output
Wide range of sizes with outputs of up to 22kW in single phase and 70kW in three phase
Cascade systems up to 2MW, cascade up to 16 units out of the box
Custom units for specialist systems
Specialist heat recovery units for commercial projects
Desuperheater technology for hot water output up to 70°C
Premium components from world-class manufacturers
---

Purpose-Built Training Academy
In 2020 we upgraded our Training Academy to provide improved facilities including an installation zone for trainees to see first-hand how heat pump systems are constructed. Our Training Academy also benefits from free parking, complimentary refreshments and the provision of materials for each of the courses we offer.
---
supporting Installers
Since 2006 we've been supporting heat pump installers to deliver high performance systems. Our services include system design, procurement, borehole and waterwell drilling, commissioning, geothermal repsonse testing and much more. Click below to find out how we can help you and your business.