Attack Biomass Boilers
Attack began producing boilers in 1995 in Slovakia. Initially producing gas boilers, Attack soon moved into the Biomass boiler market due to the increased demand for renewable heating. Attack have a world wide market for their products, exporting to countries throughout the EU, Asia, Russia, USA and Canada. Attack have been IS09001 certified since 2003. Using state of the art manufacturing techniques, Attack have developed a reputation for high quality boilers at an affordable price. Attack continue to invest heavily in research & development, continually developing innovative designs, evident throughout the range of gasifying boilers. Attack Biomass UK specialise in solid fuel systems for the UK market, and have ensured that the Attack Biomass range of products are now Micro Generation Certification Scheme (MCS) accredited.
Please see the range of available Attack Boilers:
---
KEY FEATURES
Output range from 25kW to 95kW
DP, DPX and SLX models for logs only
Combi Model able to burn both log and pellets
Pellet30 model for pellets only
Each boiler can vary its output. DPX Lambda has the ability to monitor the combustion gases and adjust combustion conditions for optimum performance
Combustion of hard and soft wood
Large fuel chamber for longer combustion time from one load
Improved heat exchanger for increased efficiency
High combustion efficiency, low fuel consumption and low emissions
Simple operation and cleaning
Automatic shutdown of boiler after fuel is depleted
Pressurising fan for continuous and effective combustion and operation
Equipped with a cooling circuit that protects the boiler from overheating
Vertical or Horizontal Flue Outlet (DPX Models)
Fireproof clays able to resist temperatures up to 1500°c
The boiler is approved and tested to European standard EN303-5
Complies with requirements for Renewable Heat Incentive (RHI)
---
GASIFACTION EXPLAINED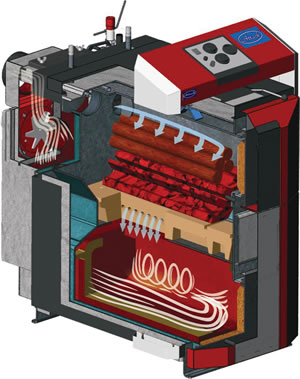 Attack Biomass Boilers do more than just burn wood, a process called gasification takes place. This works by extracting carbon monoxide and hydrogen from the raw material (wood/pellets) with a controlled amount of oxygen input from the air. The combined mixture is known as Syngas, this in itself is a fuel. More details of gasification and the gasifying process can be found here.
The operation which takes place inside the Attack gasification boilers is a two part process; firstly the Syngas is burned to heat water (typically in a downward force towards the base of the boiler in the lower chamber), after the Syngas is exhausted from the raw materials the boiler then enters its second phase when it will start burning the raw materials from the upper chamber. All the heated water is transferred to a highly insulated accumulation tank. The frequency of requirement of heating the accumulation tank depends on the time of year i.e. whether your primary heating is active, if so then you may be required to fill up the boiler in the morning and the evening. However if for example you have a solar system fitted then you may only need ignite your boiler once every 3-4 days.
This process means allows users to get the most out of the fuel used, and as a result there is minimal waste. The ash left over from the process can easily be gathered and discarded.
---
Videos - Please see the following operation videos of the Attack Boiler Range
---
Visit the Attack Website:
Should you have any questions about the Attack Boiler range please dont hesitate to: Contact us