News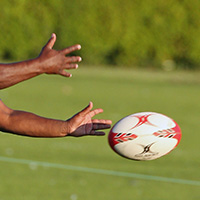 NEWS - Rugby match raises more than £7,000 for local charities

Former British Lion rugby star Allan Bateman teamed up with staff and supporters from Wales & West Housing and Cambria Maintenance Services to raise money for local charities.
A charity rugby tournament, organised by WWH staff with the help of the Welsh Charitables RFC Veterans charity and partner contractors Thermal Earth, brought hundreds of people to Penarth RFC.
More than £7,000 was raised on the night through sponsorship, ticket sales, raffles, a charity sporting memorabilia auction and other activities.
The main beneficiaries were Age Cymru which is WWH's staff charity, and Penarth father-of-three Matt Burns, whose wife Jo, works at WWH's head office in Cardiff. Matt is currently undergoing chemotherapy for cancer and his family and friends are raising £30,000 towards potential future treatment.
Eight teams from local businesses and organisations including Cardiff Council, Cambria Maintenance Services, Nelson RFC, Peacocks and WWH took part in a seven-a-side touch rugby tournament. A team of Matt's colleagues from Peacocks won the competition .
During the evening a WWH select 15 team of professional and regional club rugby players along with WWH & Cambria staff took on the Welsh Charitables RFC Veterans. Among the well-known faces were Allan Bateman, internationals Rhodri Jones, Gareth Bowen, Richard Johnston and Hywel Davies and several former professional players.
WWH Chief Executive Anne Hinchey said: "A huge thank you to everyone involved; from the Welsh Charitable Veterans, our contractors and WWH staff, families and friends and everyone who turned up on the night to show their support.
"We couldn't have asked for a better evening. We have already raised £7,000 and donations are still coming in. When all the money is collected we are going to be able to make a real difference to Age Concern Cymru and the Burns family."
"We hope this will become an annual event and more organisations will join us next year to raise even more money for good causes."
Carwyn Thomas, who helped to organise the event on behalf of renewable heating specialists Thermal earth, said: "We were delighted to support WWH and the Welsh Charitables RFC Veterans for this incredible evening and give something back to deserving causes.
"Seeing the smile on Matt's face on the night, I realised that it was all worthwhile."