Case Studies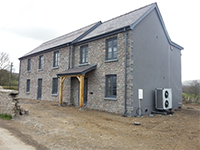 Case Study - Llangadog, Carmarthenshire
MAESGLAS is a contemporary residential development nestled in the heart of the Towy Valley. In the absence of mains gas to the site, the client sought alternative options for heating.
While researching air source and ground source heat pumps, the client noted that most manufacturers were unable to deliver capacities in single phase above 12-14kW. There were also concerns surrounding the electrical supply from the District Network Operator (DNO).
Having discussed the requirement with their builder, the client was pointed in the direction of Thermal Earth and its MasterTherm range of heat pumps. A BA30i 1ph unit was suggested, which would provide 100% heating for the property and ample hot water.