Case Studies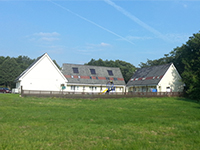 Case Study - Llanelli, Carmarthenshire
Hafan Cymru is a housing association located in West Wales. Hafan Cymru's sheltered housing property in Llanelli, Carmarthenshire not only required significant upgrades to the fabric of the buildings, but it also needed to adopt a heating system with drastically improved efficiency.
The buildings were originally heated with electric night storage heaters. These were replace with brand new compact radiators sized to operate at a maximum flow temperature of 45°c, even in the worst weather conditions. At all other times the water temperature is weather compensated, varying the required water temperature and maximising the system efficiency.
The MasterTherm BoxAir Inverter 8kW heat pump units combined with the intelligent MasterTherm pAD thermostats with room compensation are able to detect the required heat output based on the given conditions at the time of the system, further increasing the efficiency of the system.
Itís great to see this fine example of how the energy efficiency of homes in Wales can be improved. Thanks to the latest technology, these homes are now much more environmentally friendly and the investment means that the tenants themselves can look forward to reduced energy bills and warmer homes - Carl Sargeant, Welsh Government Housing Minister (2014)