sql: SELECT * FROM dbo.Blog WHERE url = 'wales-and-west-housing-clos-llwynbrain' AND Display = 1 ORDER BY DisplayOrder DESC
Case Studies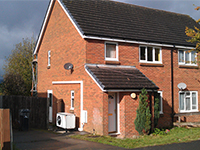 Case Study - Clos Llwynbrain, Powys
WALES AND WEST HOUSING ASSOCIATION are arguably the largest social housing provider in Wales, providing in excess of 9,000 high quality, affordable homes. As part of their ongoing commitment to investing in their housing stock, Wales and West Housing Association are replacing expensive electric night storage heaters for renewable equivalents.
MasterTherm BoxAir Inverter units with solar thermal panels were first installed at 15 properties in Clos Llwynbrain in 2013. The units are fitted with full internet monitoring capabilities linked by a shared wireless network installed by Thermal Earth. With the ability to monitor and amend the settings via the Internet, the RSL is keen to roll out MasterTherm into other developments throughout 2015 and 2016.
A multi-award winning product (Energy and Institute Awards 2014) and praised for efforts with RSL in Social Housing, the MasterTherm BoxAir Inverter is the jewel in our crown. Compact design combined with brushless DC Inverter Driven Compressor, single phase capacity to 22kW and market-leading 7-year warranty makes it one of the most powerful and efficient units on the market. The ability to modulate speed and power increases overall system efficiency by up to 20%. Internet diagnostics allows for remote control of the unit from any location!
Our residents are extremely happy with the performance and increased level of comfort in their homes. Many are reporting reduced fuel bills with the ability to keep heating on for longer and more often - Owen Jones, Sustainability Officer, Wales & West Housing Association